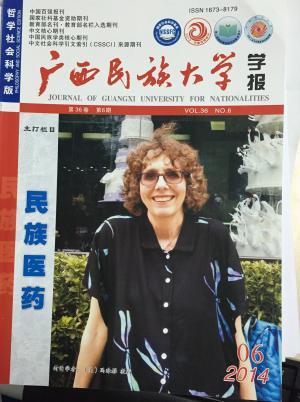 Max Palevsky Professor Emerita
Judith Farquhar does research on traditional medicine, popular culture, and everyday life in contemporary China. Anthropological areas of interest include medical anthropology; the anthropology of knowledge and of embodiment; critical theory and cultural studies; and theories of reading, writing, and translation.
Publications Include:
Metaphysics at the Bedside. Concept and Convention: Historical Epistemology of Chinese Medicine. Rochester: Rochester University Press. (forthcoming).
Reading hands: Pulse Qualities and the Specificity of the Clinical. East Asian Science and Technology Studies (EASTS). (in press).
Knowledge in Translation: Global science, local things. In Lesley Green and Susan Levine, eds. Medicine and the Politics of Knowledge. Cape Town: Human Sciences Research Council Press, pp. 153-170 (2012).
Pulse-Touching: Qualities and the Best Practitioner. In Hugh MacPherson and Volker Scheid, eds., Integrating East Asian Medicine into Contemporary Healthcare: Authenticity, Best Practice and the Evidence Mosaic. Elsevier. Pp. 39-53 (2012).
How to Live: Reading China's Popular Health Media. In K.K. Liew, ed., Liberalizing, Feminizing, and Popularizing Health Communications in Asia. Ashgate Publishers (2010).
The Park Pass: Peopling and Civilizing a New Old Beijing, Public Culture 21(2010), 551-576.
Introduction and nine section introductions. In Margaret Lock and Judith Farquhar, eds., Beyond the Body Proper: Reading the Anthropology of Material Life, Duke University Press (2007).
Food, Eating and the Good Life, In Christopher Tilley, Webb Keane, Susanne Kuechler, Michael Rowlands, and Patricia Spyer, eds., The Sage Handbook of Material Culture. Sage (2006).
Biopolitical Beijing: Pleasure, Sovereignty, and Self-Cultivation in China's Capital, Cultural Anthropology 20 (2005):303-327.
For Your Reading Pleasure: Popular health advice and the anthropology of everyday life in 1990s Beijing. Positions 9, no. 1 (Spring): 105-130. To be reprinted in Louisa Schein and Purnima Mankekar, eds., Media, Erotics, and Transnational Asia. Durham: Duke University Press (2010).
Technologies of Everyday Life: The economy of impotence in reform China. Cultural Anthropology 14, no. 2: 155-179 (May). Reprinted in Cultural Anthropology, ed. Kim Fortun and Mike Fortun. London: Sage (2010).
Market Magic: Getting rich and getting personal in medicine after Mao. American Ethnologist 23(2): 239-257 (1996).
Rewriting Chinese Medicine in Post-Mao China, in D. Bates, ed., Knowledge and the Scholarly Medical Traditions, Cambridge University Press (1995).
Knowing Practice: The Clinical Encounter in Chinese Medicine, Westview Press, 1994.
Eating Chinese Medicine. Cultural Anthropology 9(4): 471-497. Chinese translation in Chayi(Differences) No. 1 (2005).
Multiplicity, Point of View, and Responsibility in Traditional Chinese Medicine, In A. Zito & T. Barlow, eds., Body, Subjectivity and Power in China, University of Chicago Press (1994).